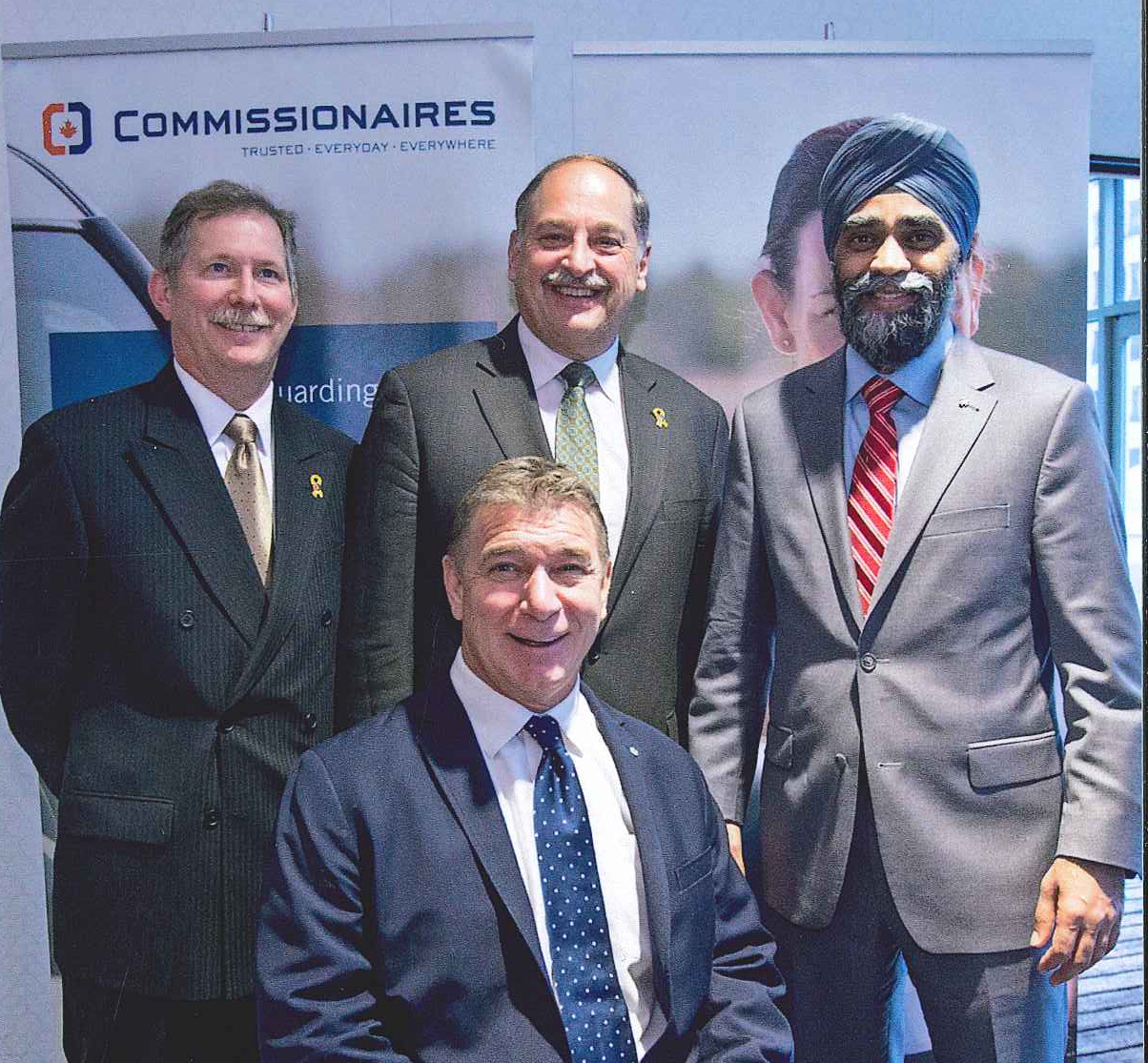 February 23, 2016 5:14 pm
On February 15, 1965, the Maple Leaf flag first flew over the Peace Tower in Ottawa. On the same date this year, Commissionaires BC played a significant role in the Canadian Club of Vancouver's annual celebration of this historic event by sponsoring the VIP reception and hosting a table at the Hyatt Regency Hotel.
This year's celebration included a tribute to the late Order of Canada recipient Patrick Reid, who led the effort to design a new national flag to replace the historic Red Ensign. Later, Mr. Reid settled in Vancouver and served as the Commissioner General to EXPO '86; the first Honorary Captain of the Canadian Patrol Frigate HMCS Vancouver; and Honorary Colonel of the British Columbia Regiment (Duke of Connaught's Own). The immediate Reid family was well represented at the event, including Patrick's daughter Amanda and her spouse – Canada's Man in Motion, Rick Hansen.
The Honourable Harjit Singh Sajjan, Canada's Minister of National Defence and former Commanding Officer of the British Columbia Regiment, paid tribute to Mr. Reid in a heartfelt and well-received speech. In one of his earliest public appearances, Minister Sajjan drew laughter with a reference to his depiction as Canada's "badass defence Minister," and declared that Patrick Reid "was the true badass" for his own conduct during the Second World War. Mr. Reid was awarded the Military Cross for courage under fire during the Italian campaign, when he dismounted from the relative safety of his tank turret to encourage accompanying infantry, "from a country other than Canada" (according to the Minister), to keep up with his advance against German defences. He was wounded in action on one such occasion.
The Minister thanked Mr. Reid for his mentorship. He then praised Mr. Reid and Mr. Hansen for the "sense of inspiration" they imparted to their fellow Canadians. Minister Sajjan drew strong applause from the nearly 200 guests when he emphasized that "we all love Canada."
Witnessing the occasion, Commissionaires BC's guests included Rear Admiral Gilles Couturier, Commander Maritime Force Pacific and Deputy Commander-designate of the Royal Canadian Navy; Brian Haw of Convergint Technologies; Rod Tulett, Metro Vancouver; and Captain (Navy) (retired) Harry Harsch, the recently appointed Chief of Staff to the Commissionaires National Office, who also visited our facilities and met our staff in Vancouver and Surrey. Our hosts included Dan Popowich, CEO; Stuart Evans, Chair; Elaine Fisher and Bob Lesperance, board members; and Dan Thomas, Office Manager.
Photo Credit: Dave Roels